With Thanksgiving coming tomorrow I'm seeing lots of people posting their favorite recipe and it started me thinking , Do I really have a Thanksgiving favorite? HMM, I don't eat turkey, I prefer ham, I'm not big on pumpkin pie, in fact I really haven't eaten pie since my Grandpa passed away last year. He was the baker in our family and his cherry pie was the best. I guess I'm just not ready to tackle eating pie yet. Anyway as I was saying about Thanksgiving favroites. I keep asking myself what they are, the stuffing my family makes comes from a box, yes I know they are missing out on the good stuff by using the boxed mix. But still not my favorite. My husband loves my pumpkin roll and I'm ok with it but is it really my favorite? Nah not really.
My 18 year old son makes Bubble Pizza every year and we like it well enough but still not my fave.
What I kept asking myself is your Thanksgiving favorite? Well the only thing I could think of was Grandma's Potato Salad.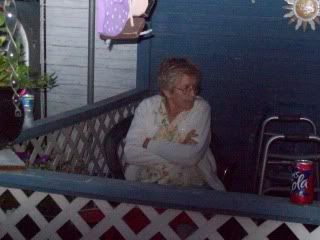 This is my Grandma, she is 83 years old and everyday I spend with her I count as a blessing.
She makes the best potato salad and no gathering is complete without it. Thanksgiving is not Thanksgiving without Grandma's potato salad. Grandma has no recipe for it. She just puts a little of this and a bit of that and it tastes great every time. If only I could cook half as good as Grandma.I've made her potato salad and mine comes close but still doesn't taste near as good as Grandma's. She has been making her special potato salad for longer then I've been alive so she's had lots of time to perfect it.
What makes Grandmas Potato Salad so good is all the time and love she puts into it.
Note: I will try to get Grandma to set down and write up her recipe so I can share it on Thanksgiving.