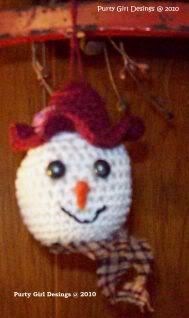 Here is an ornament I made for my swap partner in the
Flirty Apron
swap. We have to add some tuck ins to send with our apron and the word I chose was snow.Below is the list of tuck ins my partner will be getting
S-snowman ornament
N-note cards ( I will decorate them myself)
O-oatmeal lace cookie recipe
W- washcloth (crocheted by me)
as soon as I have them all done I will post them.
I am working on the pattern for the snowman ornament. I have made several of these over years and everyone loves them. Last year my son gave them to his teachers and they were thrilled to receive them.You can see them in
this post.
I do hope my partner likes it.